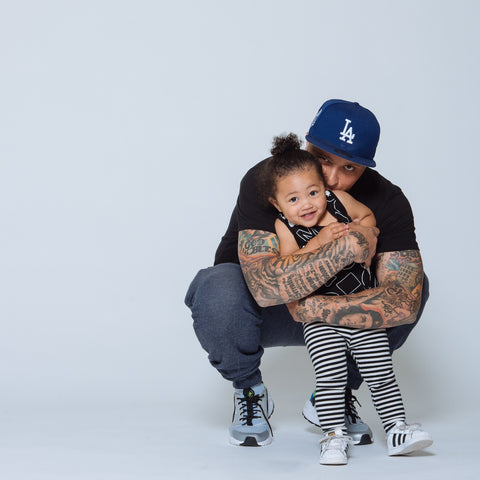 Chief Johnson: A dot connector Dad to the Bone and creative marketing at Young & Reckless.
Dadhood is the best and good fathers deserve to be highlighted. This is a new feature at The Bad Dads Club called - Dad to the bone where we feature some of the coolest Dads we know. We ask them a few fun questions and let them take it away from there. Welcome to The Bad Dads Club - Chief Johnson.
Please tell us a bit about who you are?
Chief Johnson: Creative Marketing and Artist Relations for LA based brand Young & Reckless. Being a dad has been life changing in the most amazing way not only personally but in business it has helped also. Children teach you patience,understanding, how to love again . And nothing more amazing then seeing the joy in their eyes when they experience something for the first time. Priceless stuff. Seeing my daughter smile when she looks at me is what makes me awesome. She has made myself and her mother strive to become better people and better parents.
How long have you been a Dad?
CJ: Since Oct 28th 2014
Were or are you a baby wearing Dad?
CJ: Yes
What is a fun thing that you did with your kids this week?
CJ: Raging Waters this weekend , unlike myself my daughter already loves the water.
On a scale of 1 to 10 how would you rate your diaper changing ability?
CJ: 8
What is your go to in a tantrum emergency?
CJ: Elmo , or Ryan's Toy Review.
What's the last movie you watched with your kids?
CJ: Elmo in Grouchland
What's your kid's favorite word?
CJ: "Mommy Maaa" and "Daddy Daaaa" thats her new wave is rhyming names
The last book you read with your kids?
CJ: Honestly mommy runs the book club
Favorite adult beverage?
CJ: Goose & Tonic
Favorite Skate Video part and/or Disney Princess?
CJ: Elsa from Frozen hands down.
What makes you a "Bad Dad" (This is a good thing...)?
CJ: Striving to be a father not only my daughter can look up to but other fathers as well. I think Dad's sometimes get a bad rap in society or overlooked. I would rather be known as a great father over anything else. It's the greatest gift and the most rewarding thing in life.
For more info on Chief and his awesomeness, please check out www.youngandreckless.com or get at him on Instagram.
- TBDC