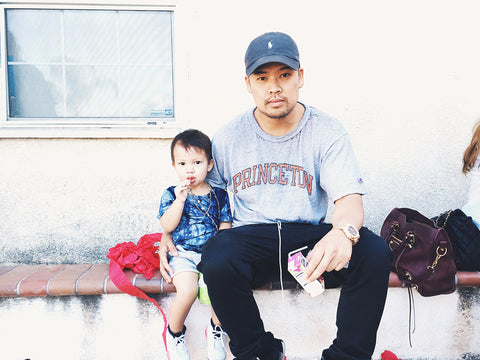 Dadhood is the best and good fathers deserve to be highlighted. This is a new feature at The Bad Dads Club called - Dad to the bone where we feature some of the coolest Dads we know. We ask them a few fun questions and let them take it away from there. Welcome to The Bad Dads Club - Chris Ngo.
Please tell us a bit about who you are?
Chris Ngo: Chris Ngo, I guess I work I own a few clothing brands and sell clothes. I'm pretty damn awesome, at least I tell myself that.
How long have you been a Dad?
CN: Almost 3 and a half years.
Were or are you a baby wearing Dad?
CN: Yes
What is a fun thing that you did with your kids this week?
CN: Nothing crazy so far, walks around the park with our dog and playing hoops. 
On a scale of 1 to 10 how would you rate your diaper changing ability?
CN: Off the chart, One hand with a beer skills.
What is your go to in a tantrum emergency?
CN: Call Mom.
What's the last movie you watched with your kids?
CN: Finding Dora. (Terrible)
What's your kid's favorite word?
CN: Go away or NO.
The last book you read with your kids?
CN: The Tushy Book.
Favorite adult beverage?
CN: Dom P
Favorite Skate Video part and/or Disney Princess?
CN: Elsa......100% Elsa.
What makes you a "Bad Dad" (This is a good thing... AKA Way too awesome compared to everyone else)?
CN: I can still remain cool but put family first. My kids and wife is everything.
For more info on Chris and his awesomeness, please get at him on Instagram.
- TBDC