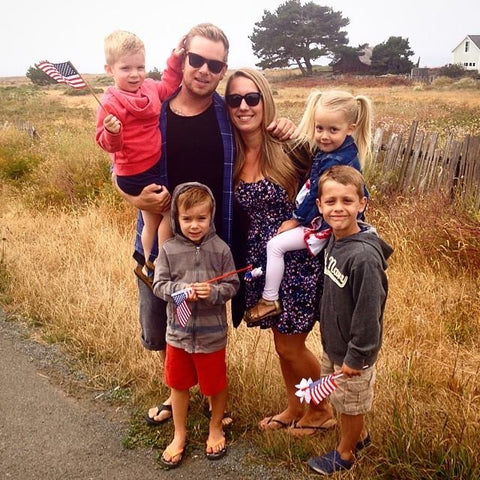 Dadhood is the best and good fathers deserve to be highlighted. This is a new feature at The Bad Dads Club called - Dad to the bone where we feature some of the coolest Dads we know. We ask them a few fun questions and let them take it away from there. Welcome to The Bad Dads Club - Gregg Shaw.
Please tell us a bit about who you are?
Gregg Shaw: 35, owner; The Black Opal Agency. I spend 1/3rd of my day diffusing arguments over Pokemon and volunteering in my kid's elementary school classes, 1/3rd outfitting the best retail stores in the industry with Shwood, Ampal Creative, Apolis and Recover, and 1/3rd waist deep in mountain rivers with a fly rod chasing wild trout.
How long have you been a Dad?
GS: 9 years, if you don't count the additional decade being a dad to a cat who keeps winding up in animal control cat jail.
Were or are you a baby wearing Dad?
GS: Yes
What is a fun thing that you did with your kids this week?
GS: What do you get a 6 year old for their birthday when you've already gotten them a bb gun? Obviously a terrarium and 3 Madagascar Hissing Cockroaches. These things are vile, but one of our kids is fascinated by bugs so now he has 3 to look after; "Stripes", "Wilbert" and "Fat Funky".
On a scale of 1 to 10 how would you rate your diaper changing ability?
GS: 10, but there's a reason I don't want any more kids.
What is your go to in a tantrum emergency?
GS: Hand kid inflatable baseball bat, walk them to their room, close bedroom door as I leave and tell them to have fun. They can break their own shit all they want.
What's the last movie you watched with your kids?
GS: Jaws. The original.
What's your kid's favorite word?
GS: "heydadcanIbuythisappitsonlytwodollars"
The last book you read with your kids?
GS: Turbo Cowboys. This 1980's kid adventure book I loved growing up, reading it with them now.
Favorite adult beverage?
GS: Dark & Stormy
Favorite Skate Video part and/or Disney Princess?
GS: A.V.E. in Photosynthesis / obviously Jasmine from Aladdin.
What makes you a "Bad Dad" (This is a good thing...)?
GS: I had an epic role model of a father in my Dad, Jim. He was able to walk the line between being a father and being his own person really perfectly, something that seems to easily get lost with parents. I learned from him how important it was to expose your kids to all kinds of things and see what peaks their interest, and then how to genuinely help them explore those interests or hobbies for as long as it holds their interest. Plus I catch fish as big as they are and am constantly ready to help them draft a letter to their congressman when they have some gripe about how unfair something in their life is.
For more info on Gregg and his awesomeness, please check get at him on Instagram or Shwood.
- TBDC