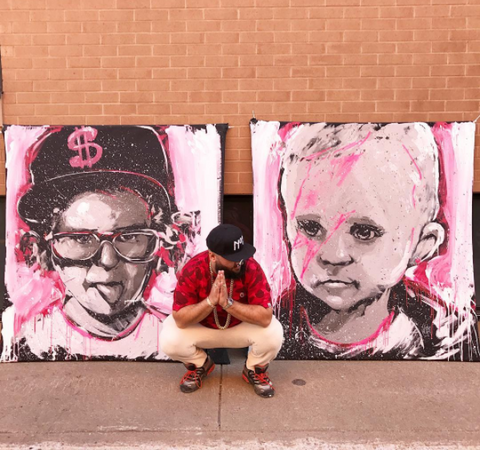 Dadhood is the best and good fathers deserve to be highlighted. This is a new feature at The Bad Dads Club called - Dad to the bone where we feature some of the coolest Dads we know. We ask them a few fun questions and let them take it away from there. Welcome to The Bad Dads Club - Corey Shapiro.
Please tell us a bit about who you are?
Corey Shapiro: I'm the owner & founder of Vintage Frames Company in Montreal Canada. Most know me for my insane antics and giant beard dropped with gold chains. Most importantly, I'm Jenn's husband, & Cash n Bowie's dad
How long have you been a Dad?
CS: I've been a dad for a little over 5 years now.
Were or are you a baby wearing Dad?
CS: Yes
What is a fun thing that you did with your kids this week?
CS: I take my 5 year old son Cash to his very conservative hebrew school every morning and he stunts. Heads turn, necks break, he shuts down the kindergarten game like whoooooooay.
On a scale of 1 to 10 how would you rate your diaper changing ability?
CS: 10
What is your go to in a tantrum emergency?
CS: Beatbox
What's the last movie you watched with your kids?
CS: Star Wars
What's your kid's favorite word?
CS: Ya Dig
The last book you read with your kids?
CS: A Bathing Ape Kids Catalogue
Favorite adult beverage?
CS: Remy Martin
Favorite Skate Video part and/or Disney Princess?
CS: Dime videos, anything from them. Disney princess, hmmm, Belle
What makes you a "Bad Dad" (This is a good thing...)?
CS: That I parent how I want, where I want.
For more info on Corey and his awesomeness, please check get at him on Instagram or his website.
- TBDC