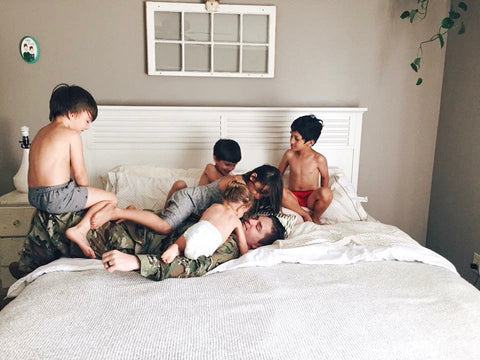 Tell us a bit about who you are?
Got a full family of 5 kids (4 step-kids, 1 biological). Currently serving the military in the Special Operations Community out of Ft. Bragg, N.C. In what little free time I do have, I enjoy videography, snapping pictures. Lately I've been getting into competitive decoying for dog handlers and looking to maybe try my hand at stand-up comedy soon.
How long have you been a Dad?
Going on 5 years!
Were or are you a baby-wearing Dad?
Absolutely! Tula is the way to go.
What is a fun thing that you did with your kids this week?
Took them to a retro free play arcade. Got to kick some tail in old school WWF Wrestlemania.
On a scale of 1 to 10 how would you rate your diaper changing ability?
My rating: 8. My wife's rating for me: 1.
What is your go to in a tantrum emergency?
Nobody can keep a straight face while being tickled. Works like a charm every time.
What's the last movie you watched with your kids?
How to Train Your Dragon 2
What's your kid's favorite word?
Racoon (Pronounced "Ra-hoooom")
The last book you read with your kids?
"Oh the Thinks You Can Think" by Dr. Seuss, celebrating his birthday next week.
Favorite adult beverage?
Dragon's Milk Bourbon Barrel Stout by New Holland
Favorite Skate Video part and/or Disney Princess?
Princess Merida from Brave because its okay for girls to kick butt too.
What makes you a "Bad Dad" (This is a good thing... AKA Way too awesome compared to everyone else)?
I am not afraid to become a kid with them again. I am the dad that is always in the middle of the action. I am the one is showing them how to be a daredevil, but also the one picking them up when they fall. A Bad Dad is more than just being fun, its about being an example of how to treat other people, especially their mother. It also means being open-minded and accepting, no matter the things that make them different.
Let people know how to find you! 

IG @suburban.cynic