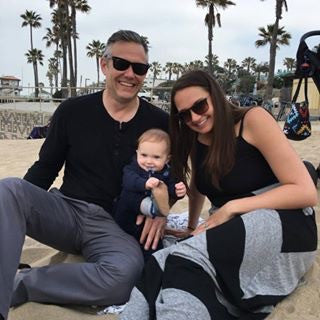 Danny Benaderet

: A passionate Dad to the Bone and Director of Sales at Loews Hotels.
Dadhood is the best and good fathers deserve to be highlighted. This is a new feature at The Bad Dads Club called - Dad to the bone where we feature some of the coolest Dads we know. We ask them a few fun questions and let them take it away from there. Welcome to The Bad Dads Club - Danny Benaderet.
Please tell us a bit about who you are?
Danny Benaderet: Director of Sales for Loews Hotels. Married to Stacy Benaderet. My son Hudson is awesome, which makes me awesome. Being a Dad & Husband, Hotels, Residential architecture (restored a Cliff May Ranch and recently restored and 110 year old Craftsman), art and old battery operated toys are my passion.
How long have you been a Dad?
DB: 11 months
Were or are you a baby wearing Dad?
DB: No
What is a fun thing that you did with your kids this week?
DB: Went to the flower mart downtown to buy flowers for his mom. Hudson loves looking at flowers. He thinks they are funny.
On a scale of 1 to 10 how would you rate your diaper changing ability?
DB: 9
What is your go to in a tantrum emergency?
DB: Phil Lumbang painting, blue dog painting or Mickey Mouse clubhouse
What's the last movie you watched with your kids?
DB: Doc McStuffins - Toy Hospital.
What's your kid's favorite word?
DB: "Dada" and "Uh?... Uh?...Uh? ...."That is all he says right now
The last book you read with your kids?
DB: I Love You Though and Through
Favorite adult beverage?
DB: Bud Light or jug wine
Favorite Skate Video part and/or Disney Princess?
DB: Who Cares - The Duane Peters Story (doc) / not a princess fan, but Miles from Tomorrowland is cool
What makes you a "Bad Dad" (This is a good thing...)?
DB: I have a 30lb rubber band ball that I hope to get to 50lbs+ with the help of my Son, Hudson.
For more info on Danny and his awesomeness, please check get at him on LinkedIn.
- TBDC