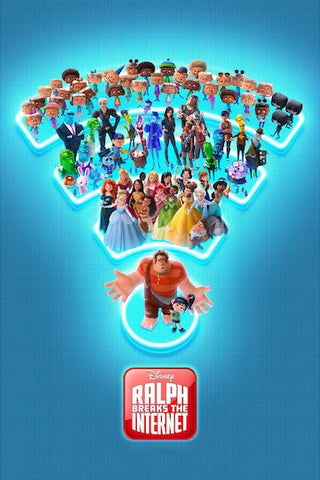 Ralph Breaks the Internet
We are super stoked to have a guest blogger review the new Wreck it Ralph movie by Disney…
If you are into Dad Jams from Imagine Dragons, then you will enjoy the first and last part of the movie, and a quick part during the movie!  If you are a fan of cool kid movies with lots of adult puns, then sit back, grab some popcorn and candy and let's talk about this movie.
There are some spoilers in this review, so consider yourself warned!  Before the 6 of us can go to a movie, we need to think about money, it's not a cheap date, let alone with 4 little monsters with us.  The adventure begins with a trip to Costco for cheaper movie tickets, then to Walmart for cheap candy to put in moms purse!  Our popcorn hack is to order an X-large with 1 refill, and 4 cartons, then in front of the cashier we dump the popcorn evenly in the 4 boxes and then ask for our free refill.  If only we could sneak in our own popcorn, maybe next time!
The movie does a great job making references that anyone ages 2 – 50 would get, but once your "over the hill" then some may get by you.  We have a little 2 year old, a 5th grader and 2 in high school.  We were all entertained with parts of the movie.  The younger of our crowd was most entertained, while the older part of our family found the most humor in the princesses and old video game references.
John C. Reilly as Ralph and Sarah Silverman as Vanellope were brilliant.  They did a great job, hands down great voices for these parts.  There were a couple funny things to point out:
No opening credits, just went right for it!
There is a reference that if they are in a diff game and something crashes, then they will not regenerate. Well the glitch in Tron did not make this happen!  Not sure if we were supposed to catch that
Many songs made a short but distinct cameo from movies like

MULAN
FROZEN
MOANA
THE LITTLE MERMAID
AND EVEN STAR WARS
Let's talk about the internet.  Well played, lots of spoofs and every major player seemed to be represented expect for YouTube, not sure if we missed it or if it wasn't included for some reason.  Google had a major presence, but I guess didn't' want YouTube to be part of this blockbuster!
Bottom line, have low expectations.  Enjoy the puns, dad jokes, and references!  Don't forget to sneak in the cheap snacks and the movie popcorn hack!